ALPE ADRIA
Update on Movement Disorders
La Società Italiana Parkinson e Disordini del Movimento/LIMPE-DISMOV ETS svolge attività formativa sulla malattia di Parkinson da oltre 40 anni.



"ALPE ADRIA - Update on Movement Disorders"

ALPE-ADRIA was a public Institution founded in Venice in 1978 to promote cooperation between the states of the Eastern Alps and Northern Adriatic see. The intitiative had the finality to develop cooperation and exchanges in Alpe Adria area and increase the processes of integration bewteen European states from Northern Italy to Austria, Slovenia, Croatia, Hungary in science, culture and politics.
Despite this Institution has been formally discontinued and this region is now for the most part fully integrated in the Shengen area, the original spirit of cooperation still exists. The ALPE-ADRIA Congress on Movement Disorders wants to revive the old collaborative spirit by involving a group of regional experts with the objective to share new insights and common protocols across the Alpe-Adria region and other Eastern European countries.

Read more...

The knowledge on pathogenic mechanisms underlying many movement disorders is developing rapidly and will represent an important epidemiological challenge in the next years. The discovery of new pathways in neurodegeneration and the implementation of invasive strategies to treat clinical symptoms offers new and innovative opportunities in the fiels of movement disorders. The Congress addresses different topics including an update on synucleinopathies, advanced therapies in Parkinson, clinical phenotypic characterization of L-Dopa responsive and non-responsive symptoms, advanced neuroimaging, rehabilitation and telemedicine and on the management of functional disorders. There is no standardized approach to these issues that are often addressed differently by treating physicians and institutions. The objective of the ALPE-ADRIA Congress is to define a common diagnostic and therapeutic approach to these conditions. The emphasis will be on sharing knowledge, developing protocols and establishing new collaborations among neurologists who manage these patients.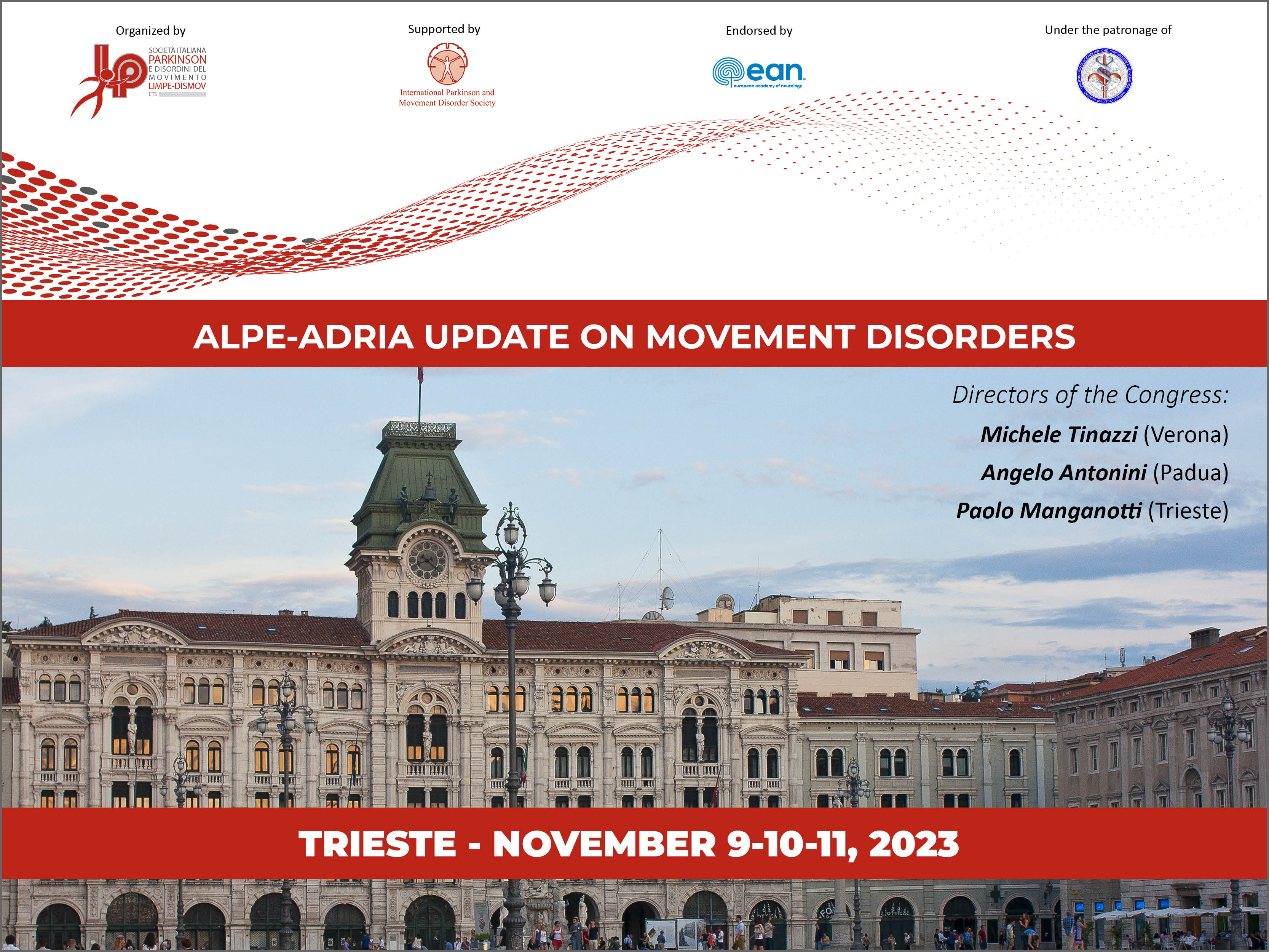 Location and date

Trieste, Italy
November 9-10-11, 2023

Savoia Excelsior Palace
Riva del Mandracchio, 4
34124 Trieste, Italy
CME Credits

The Meeting provides nr. 11,2 credits for Physicians (specialists in Neurology, Neurosurgery, Physical Medicine and Rehabilitation, Radiology, Geriatrics and Psychiatry) Psychologist and Physiotherapists.

Certification of credits is subject to verification of learning and participation in the entire training program.
Scientific Programme

Please consult the Scientific Programme complete also of the oral communication and poster sessions.

Registration
It will be possible to register until Nov. 5, 2023
The registration fee includes: participation at scientific sessions; materials; coffee breaks; lunch.
Limited to 200 participants.

Faculty

See the list of Faculty who will take part in "ALPE ADRIA - Update on Movement Disorders".

Sponsor

See the list of Sponsors who will contribute to the realization of "ALPE ADRIA - Update on Movement Disorders".