Course Neuroimaging in Parkinsonism
La Società Italiana Parkinson e Disordini del Movimento/LIMPE-DISMOV ETS svolge attività formativa sulla malattia di Parkinson da oltre 40 anni.



Course "Neuroimaging in Parkinsonism from diagnosis to therapeutical approaches"

This international course, limited to 50 participants and organized by the Italian Parkinson's and Movement Disorders Society/LIMPE-DISMOV in cooperation with the Neuroimaging Study Group of the International Parkinson and Movement Disorders Society, will focus on the latest advances in structural and molecular neuroimaging techniques used to understand the pathophysiology of the main motor and non-motor symptoms of Parkinson's disease, improve differential diagnosis with other forms of Parkinsonism, and monitor disease progression and response to pharmacological therapies.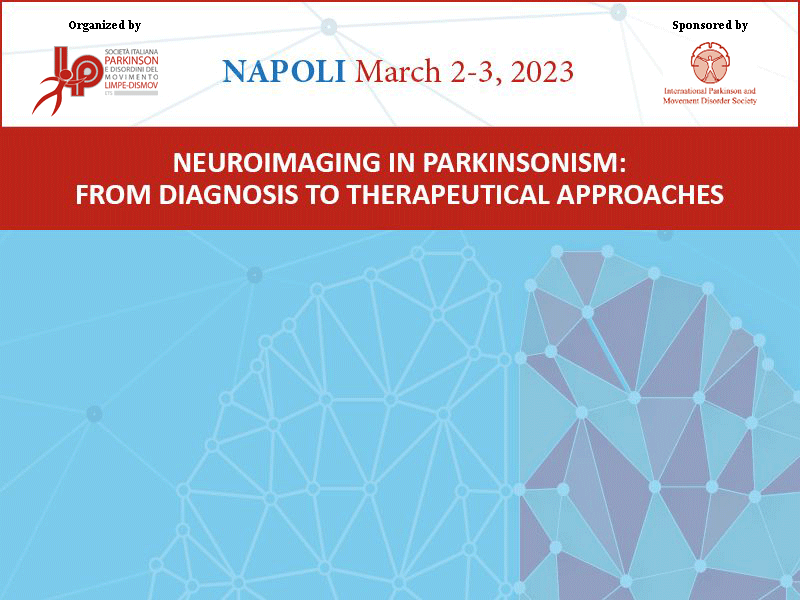 Location and date

Naples, Italy
March 2-3, 2022

Grand Hotel Oriente
Via Armando Diaz, 44
80134 Naples, Italy
CME Credits

The Course provides nr. 6 credits for physicians (specialists in Neurology, Neurosurgery, Neuroradiology, Physical Medicine and Rehabilitation, Radiology, Nuclear Medicine, Geriatrics and Psychiatry), Psychologists and Radiologic technologist.

Certification of credits is subject to verification of learning and participation in the entire training program.
Call for Abstract

Abstract submission
Dec. 12, 2022-Feb. 5, 2023

Abstract submission is not mandatory. Abstracts within the topic of Neuroimaging will be considered for the Poster Session and 12 of them will be selected for presentation. The best 2 Posters will be awarded with a prize of 500 € each.

Registration
It will be possible to register until February 12, 2023.
The registration fee includes: course participation; course materials; coffee breaks; lunch.
Limited to 50 participants.

Faculty

See the list of faculty who will take part in the Course "Neuroimaging in Parkinsonism from diagnosis to therapeutical approaches".